Garage Door Repair & Maintenance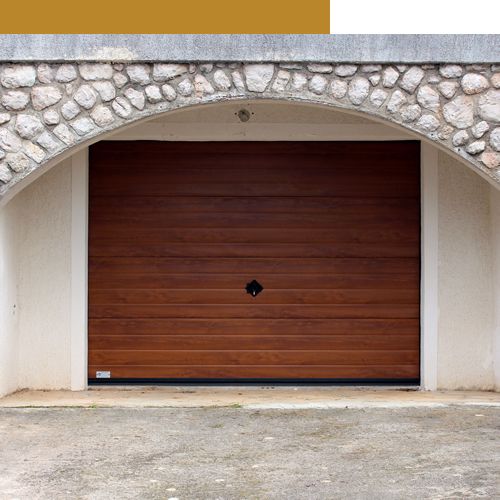 Problems With Your Garage Door? We Can Help!
When you need a team of garage door experts to tackle a problem, G Brothers Garage Doors is here and ready to help! We have more than 20 years of experience working with garage doors, which means faster troubleshooting, a more accurate estimate, and better, faster repairs. No matter what is going on with your garage door, give us a call — we know that we can help. If you need an estimate, we can provide you with one for free. It's important to make sure you are getting a fair price, and we are confident that our estimate will show you that we are the right choice for you.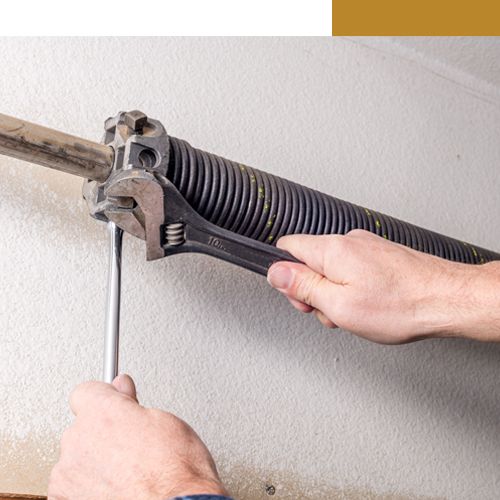 If you are dealing with any of these issues, call the experts at G Brothers Garage Doors today:
Your garage door won't open

Your garage door won't close

Your garage door opens or closes partway

Your garage door is noisy

Your garage door shakes as it opens or closes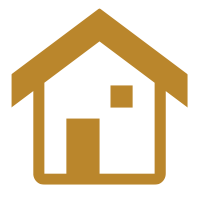 Your garage door isn't just useful, it has an important impact on your home's look. We can repair or replace any dented or discolored panels.

Are you having trouble with your garage door remote? Contact us today. We can try to help you over the phone, then come to your home for repairs or to replace an old remote.
Let the professionals at G Brothers Garage Doors handle any repairs and maintenance you don't feel comfortable completing. You could end up doing more harm than good.

All of the parts we install, as well as every new garage door is covered by an extensive warranty. We also warranty that we did the work correctly the first time. If not, we will fix it — free of charge.
Garage Door Maintenance
Like everything else in your home, your garage door needs regular care to keep it functional for as long as possible. Even if you don't use your garage door that often, yearly maintenance can save you money and prevent accidents. Call us today to set up a maintenance appointment with the crew of experienced garage door repair specialists at G Brothers Garage Doors.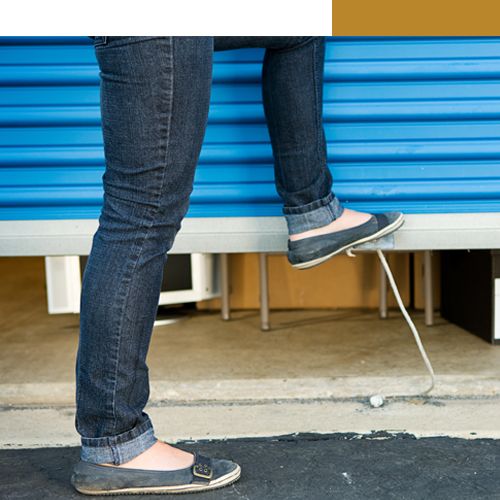 No matter when your garage door stops working, the team at G Brothers will be there to put it back into working order. Call us day or night for assistance getting your garage door to open or close again.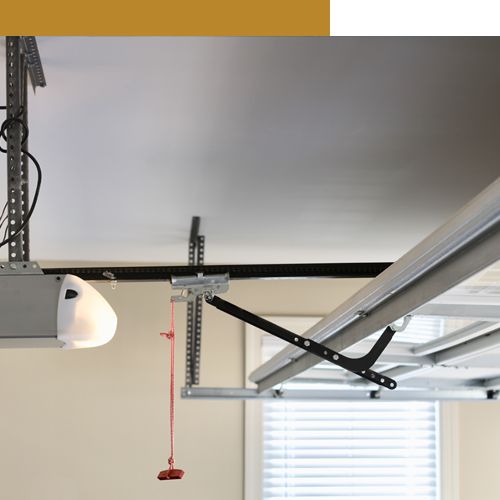 From old or damaged sensors to an off-track door, we can handle it all. Our teams have the tools, training, and experience that can quickly turn any issue into a thing of the past. Contact us today if you want to set up a maintenance visit, or if your garage door needs to be repaired or replaced. We warranty all of our work and everything that we sell, so you can rest easy knowing that if anything goes wrong, we will be there to make it right again.
We service/maintain all aspects of your garage door.
This includes (but is certainly not limited to):
Section Hinges
Bottom Weather Seals
Spring Pads
Door Lubrication
Garage Door Jambs
Garage Door Headers
Horizontal/Vertical Track Alignment
Reinforcing Struts
Flag Brackets
Safety Hardware
Drum Replacement
Center/Side Bearing Plates
Securing Backhangs
Torsion Shaft
Door Balance
Torsion Springs
Door Cables
Door Rollers
Overall Door Service and Maintenance
Door Section Replacement
Dump Cable Repair
Weather Stripping
Track Replacement
WE ALSO SERVICE AND MAINTAIN ALL ASPECTS OF YOUR GARAGE DOOR OPENER,
INCLUDING, BUT NOT LIMITED TO, THE FOLLOWING COMPONENTS:
Emergency Release
Limit Settings
J-Arm Mounting
Photo Eye Sensors
Force Settings
Trolley Rail
Safety Reverse
Operator Motor
Fastener Secure
Programming
Overall Garage Door Opener Service and Maintenance
IN ADDITION TO SERVICE AND MAINTENANCE, WE ALSO INSTALL Commercial and Residential GARAGE DOORS AND GARAGE DOOR OPENERS:
• General Install of Residential Door (Includes removal and haul away of old door if applicable and everything necessary to install and operate your new garage door)
• General Install of Commercial Door (Includes removal and haul away of old door if applicable and everything necessary to install and operate your new garage door)
• General Install of Residential Belt Drive Operator (Includes wall pad, outside keypad, two remote sensors, operator, removal and haul away of old operator — if applicable, general service)
• General Install of Residential Chain Drive Operator (Includes wall pad, outside keypad, two remote sensors, operator, removal and haul away of old operator — if applicable, general service)
• General Install of Commercial Garage Door Operator (Includes wall pad, removal and haul away of the old operator — if applicable, general service)
No one likes it when their garage doors stop working. Best case scenario, it's a minor inconvenience. Worst case scenario, it can become a safety issue. No matter the situation, garage door problems are a headache that often seem to happen at the most inopportune times. This is why G Brothers Garage Doors offers 24-hour emergency garage door repairs to people living in Lakewood, Golden, Arvada, and Denver. Our customers rely on us to keep their garage doors working properly and looking good.
We'll fix the problem in no time at all so you can get back to business as usual. Contact us today for a free garage door service estimate. In the interim, review the common issues below to help you narrow down your problem.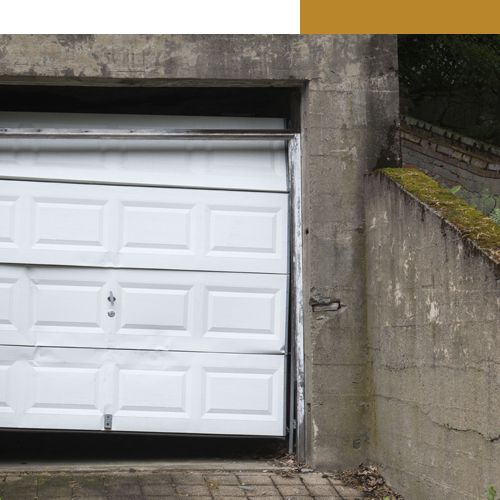 Common Garage Door Issues
If your garage door isn't working like it should, it can be difficult to tell exactly what the problem is. Fortunately, we have compiled some of the most common garage door issues to help you narrow down your issue. This will allow us to more easily diagnose the problem, provide a more accurate quote over the phone, and potentially help us to solve your problem for you without ever having to come out!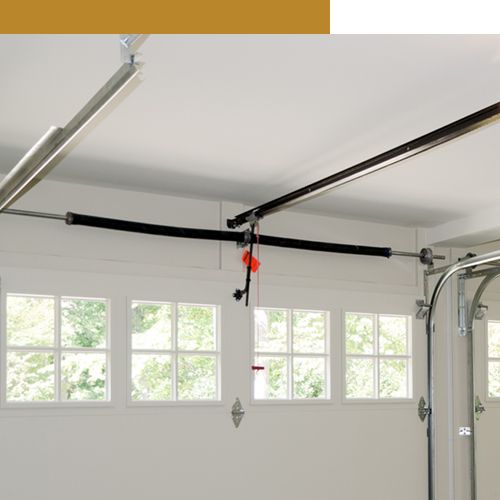 Garage Door SPRINGS
Is your door extremely heavy to lift? When a garage door is difficult to lift or the garage door opener only lifts the door a few inches before it stops, the spring is likely broken. Garage door springs are one of the most common issue plaguing homeowners. Luckily, garage door springs are easily replaced. Garage door springs are the most important component of a functional garage door. Unfortunately, if your garage door springs break, there is very little you can do on your own, because replacing them can be a dangerous process if you don't have the proper trained. Luckily, the technicians at G Brothers Garage Doors are always on call and can quickly take care of your problem. We carry the most extensive warranty in the industry.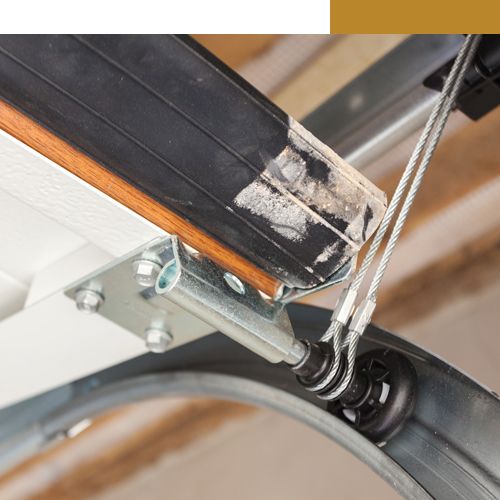 Garage Door CABLEs
Has your garage door cable fallen off or is your door off track? This is often caused accidentally by the homeowner, and it generally occurs when the door is closed on top of an object…or even a rear vehicle bumper or hatch. When this occurs, a loose cable or knocking the door off its track is often the result. This can also occur when the garage door opener attempts to open the garage door while the manual lock is engaged. It can also be caused by worn out parts. Once this occurs, its important that you have a professional complete a thorough inspection to confirm the source of the issue. This allows them to fix the problem without risk of it promptly reoccurring, but also ensures that there is no further risk to the integrity of your door.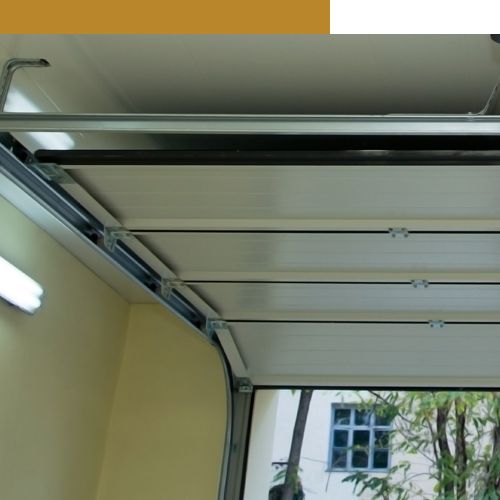 Garage Door PANELS
Do you have damage to a single panel of your garage door? No worries. It is not uncommon for panels to get bumped by cars or bikes. Panels can also begin to bend or warp if there are greater structural problems. People become concerned when a panel is damaged or becomes unsightly because they fear they will need to have the entire door replaced, but that is not always the case. If only one or two of the garage door panels are damaged or showing signs of age, a garage door panel repair or replacement may be an excellent alternative to completely replacing the door.
A panel replacement is more cost effective than getting an entirely new garage door, and it's a very quick way to improve the function and aesthetics of your garage door and, by extension, your home. It is important to consult a professional regarding this decision because there are times when replacing just one or two panels causes more harm than good. Garage door panels are specifically designed and measured for your garage door, in order to account for a number of variables, most notably size and weight. By replacing this important component, you can potentially disrupt the aesthetic value while compromising the door's structural integrity. While the door may seem fixed from the outside, the parts that move the door may be in jeopardy.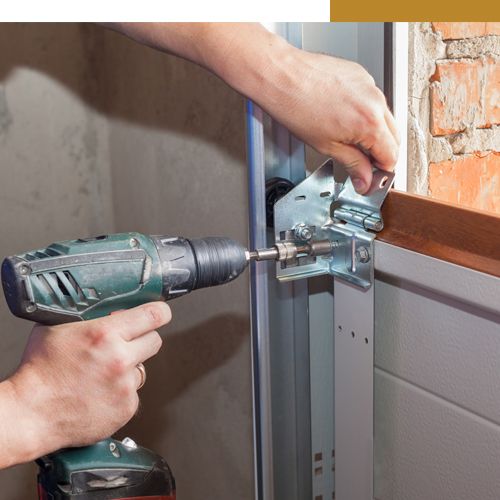 Garage Door Hinges
Have you noticed a wobbly hinge or a missing screw? Hinges become loose for a variety of reasons. Most people don't often think about needing routine garage door maintenance. As long as things are operating, they assume that things are fine. Unfortunately, this failure to perform routine, yearly maintenance and inspections frequently results in hinges becoming rusty or corroded.
If there is physical damage to the door, such as someone backing into the garage door, this can put an immense amount of stress on your garage door and all of the components. These types of incidents often result in bent or cracked door hinges which threatens the structural integrity and safety of your entire door. Broken hinges are capable of deforming the door's guide tracks or damaging its panels. The longer you wait to repair or replace the hinges, the more likely it is that you'll end up needing a major — and expensive! — service call. You might even have to pay for a whole new garage door. While some savvy homeowners may feel confident making this repair, it is important to choose the proper hinge. The best type of hinges to cope with this heavy wear and tear over the course of your garage door's life are full-size hinges manufactured from heavy steel.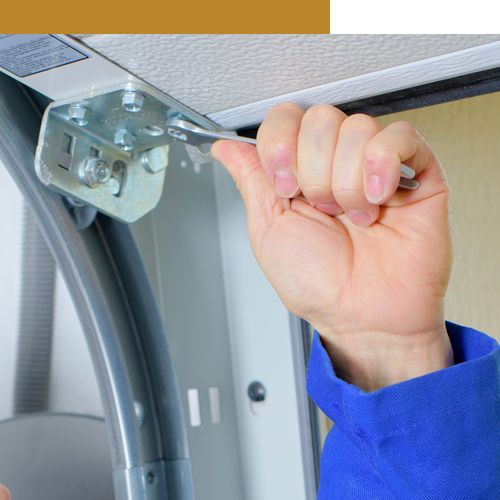 Garage Door Rollers
Is your garage door extremely noisy? Another common garage door repair is to the metal roller, which may make grinding or screeching sounds when it is traveling up and down. If you do not address the wearable parts on your garage door as they progressively wear down, your door could potentially go off-track, put undue strain and damage on your garage door opener, or may even cause far more extensive damage to the door and the garage. We always recommend replacing them with 11 ball bearing, precision nylon rollers.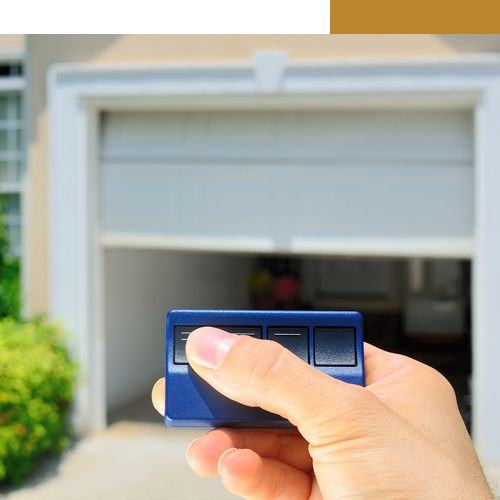 Garage Door Openers
What happens when your garage door opener wont do anything? Many people accidentally unplug their power source and then wonder why their garage door opener fails to work. If your door won't open, first make sure that your garage door opener is plugged into a working outlet. Outlets sometimes stop working without warning, so it is a good idea to check to see if the outlet is working by plugging another working electronic device into it. If that doesn't work, check your circuit breaker, fuse, or GFCI. If this does not fix the issue, call G Brothers Garage Doors to see if there is a problem with the motherboard in your garage door opener.
The garage door opener remote is not working
When your garage door won't open with the remote, there are few things that can cause this problem:
You might be out of range.
The antenna on the motor could be damaged or blocked from the signal; make sure it is hanging down from the motor.
If the door opens with the wall switch, a simple battery change in the remote should do the trick
If all these fail, try reprogramming the remote.
If you don't feel confident doing this yourself, G Brothers Garage Doors is happy to help!
Garage Door Sensors
If you try to close your door and notice that it goes down a little and then comes right back up, it could mean there is an issue with your sensor. In most present day garage door systems, there is a photoelectric backup system with sensor units placed on each side of the door approximately 5-6 inches from the floor. When these units are misaligned or the sensitivity is turned up too much, it can cause problems.
If your interior open is blinking, it might mean that your sensors are misaligned. In the case of misaligned sensors, simply align one of the sensor units with the other one. To see if they are aligned properly, take a look at the wall opener (usually installed near the door leading into the house). If aligned, the indicator light should stop blinking.
In the case of elevated sensitivity, refer to your garage door opener unit. On every garage door opener unit, there's a button for adjusting the sensitivity of the motor when the door is closing — you can turn it down a little by turning the button no more than a quarter-turn to the left. Check that it is properly adjusted by opening and closing the door with the remote after laying a piece of wood (2x4) flat on the threshold of the door. When the door hits the piece of wood, the door opener should reverse its course, lifting the door back up, if it does not, adjust the sensitivity slightly.
No matter what the source of the problem is, if you live in the greater-Denver area, you can rely on us for expert garage door repairs. Reach out today to make an appointment. All our work is backed by an extensive warranty.